The Cefas Paper of the Year awards are a highlight on the Cefas calendar, offering a chance to celebrate the excellent contributions of Cefas scientists to the world of marine and freshwater science, and demonstrate the breadth and depth of that science which resonates and has lasting impact in the world.
The 11th edition was hosted in mid March by Andrew Watkinson (Cefas Emeritus Fellow) alongside our CEO Tom Karsten and Chief Scientist Stuart Rogers.
Paying tribute to the high quality of marine science research being carried out by Cefas, he said:
Many of the papers draw upon the wealth of knowledge we have in Cefas and how we are able to use big data...  I have been extremely impressed with the very high quality of all the papers presented and I have learnt a lot.  I commend everyone for their hard work.
Student Paper of the Year
Awarded to a student working across Cefas and one of our partner institutions.
Winner
Philip Lamb: "Jelly fish on the menu" (MtDNA assay reveals scyphozoan predation in the Irish Sea Royal Society Open Science 4 art. no. 171421)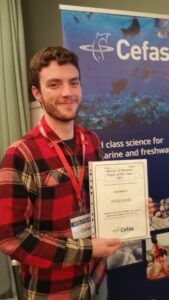 Commended  
Tamar Schwarz: "Mussels for muscles" (Rapid uptake, biotransformation, esterification and lack of depuration of testosterone and its metabolites by the common mussel, Mytilus spp.  Early view. Journal of Steroid Biochemistry and Molecular Biology)
Philip Hollyman: "Aging Whelks"  Statoliths of the whelk Buccinum undatum: a novel age determination tool.  Marine Ecology Progress Series (Advance View)
Early Career Scientist of the Year
Awarded to a scientist in the early stage of their career.
Winner
Elisa Capuzzo: A decline in primary production in the North Sea over twenty-five years, associated with reductions in zooplankton abundance and fish stock recruitment.  Global Change Biology (Early View)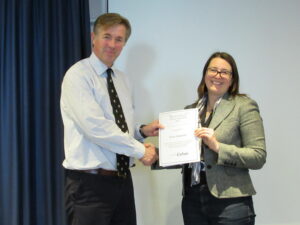 Commended
Briony Silburn: Benthic pH gradients across a range of shelf sea sediment types linked to sediment characteristics and seasonal variability.  Biogeochemistry (Early View)
David Walker: A highly specific Escherichia coli qPCR and its comparison with existing methods for environmental waters.  Water Research 126 101-110
Science Paper of the Year
Awarded to a paper demonstrating excellent Cefas science.
Winner
Craig Baker-Austen – Genomic Variation and Evolution of Vibrio parahaemolyticus ST36 over the Course of a Transcontinental Epidemic Expansion.  mBio 8:e01425-17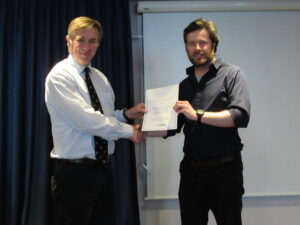 Commended
Chris Lynam - Interaction between top-down and bottom-up control in marine food webs. Proceedings of the National Academy of Sciences of the United States of America (Early View)
Keith Cooper – A big data approach to macrofaunal baseline assessment, monitoring and sustainable exploitation of the seabed.  Scientific Reports 7 art. no. 12431
Kieran Hyder – Recreational sea fishing in Europe in a global context-Participation rates, fishing effort, expenditure, and implications for monitoring and assessment.  Fish and Fisheries (Early View)
Science Communicator of the Year
Awarded for reaching audiences outside of the science community, such as government ministers, schools, local communities and industry leaders, using a variety of media.
Winner
Thomas Maes - For his work on marine litter.
Commended
Fiona Vogt - For her proactive approach to all aspects of communications, including  Strong STEM outreach.
Silvana Birchenough - For a consistently proactive and well-planned approach to ocean acidification science projects, and international work in Belize.
ICES Working Group Chair presentations
Awards given in recognition of staff contribution to annual ICES Working Groups and the Advisory process, to:
Carl O'Brien
Joanne Smith
Alan Walker
Congratulations to all of our scientists who won, were nominated or published in 2017!