The Pacific oyster is a popular aquaculture species, and I'm monitoring its distribution in Southampton and Poole.
It was originally introduced into Britain as a response to declining, commercially viable, native oyster stocks. Interestingly the first introduction of Pacific oysters occurred as early as 1890 - when oysters from Arcachon, France, were introduced into Poole Harbour, on the south coast of England, for growing on by the Poole Oyster Company.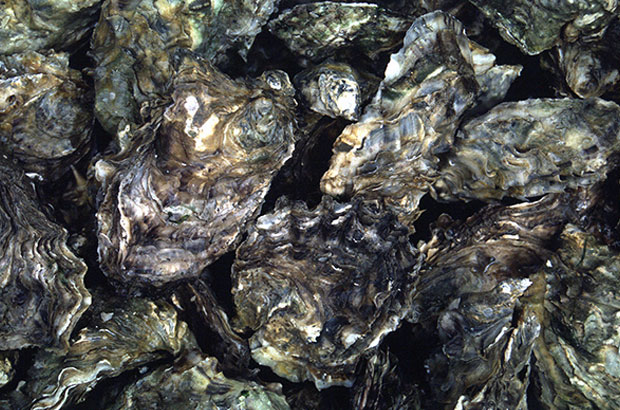 At this time UK water temperature regimes allowed oysters to grow but inhibited reproduction. Since then water temperatures have risen with global warming, and reproduction has occurred in farmed stocks of Pacific oysters.  Consequently, there is potential for reproductively active oysters to create naturalised aggregations which might disrupt local coastal ecosystems. This is concerning in areas of protected habitat, where the development of dense aggregations may compromise the conservation status of that area.
Pacific oysters have been found in areas coinciding with aquaculture production along the southeast and southwest coasts since the 1990s. And more recently naturalised aggregations have established in the southeast and the south of England. These apparently spreading from areas of aquaculture.
Investigating Southampton and Poole
Current research at Ocean and Earth Science, University of Southampton, investigates the distribution of wild Pacific oysters inhabiting Southampton Water and Poole Harbour.  Pacific oysters are fertile animals – a single female oyster can potentially release up to 50 million eggs into the water column.
The developing larvae are planktonic, allowing dispersal away from the immobile adults.  Consequently aquaculture plots have the potential to be a significant source of larvae to an area.  But it's surprising that Poole Harbour - an estuary that contains a Pacific oyster farm – has far less naturalised oysters than Southampton Water - where no aquaculture is present.
The importance of ecological control on invasive species has been considered when studying neighbouring estuaries, where notable differences exist between naturalising aggregations, both in the regularity of recruitment and the numbers of oysters surviving to maturity.  An early finding of this research has been to identify the importance of producing a local risk assessment, to include the impact of ecological controls, when considering future proposals to farm Pacific oysters.
For updates please sign up to email alerts from this blog, or you can follow us on Twitter @CefasGovUK.