Millions of people enjoy seafood. But achieving food security remains a significant and ongoing challenge for society.
In recent months, Cefas has mobilised its broad scientific expertise to assess the structure and security of the aquatic food system in the UK. New research by Cefas scientists provides important insight into fundamental challenges facing our food system and future paths to sustainability.
Food production must be sufficient, safe and nutritious to meet people's current needs and preferences, but it also has to be environmentally, socially and economically sustainable to provide for the long-term. National fisheries and aquaculture, as well as imported products, all help to meet our demands for aquatic food, but the pros and cons of these different production systems and their components have fuelled lively debate about the best options. What's more, people expect any food system to provide safe and nutritious food, produced in ways they find ethically acceptable.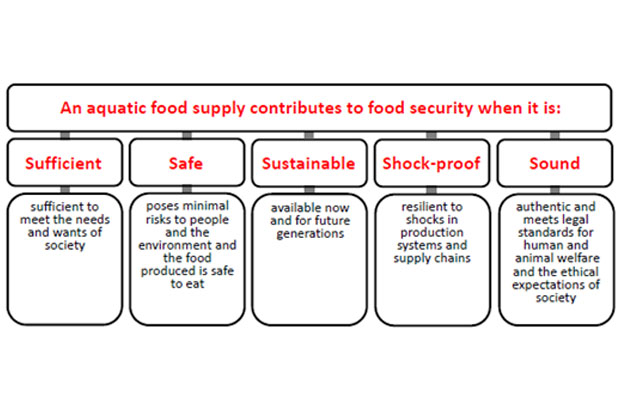 How should the UK balance food production and environmental protection? What are the social and economic benefits of different food systems?  Will the UK always rely on imports to support seafood consumption? How does the balance of fisheries and aquaculture production, importing and exporting affect the resilience of our food system? Is our seafood safe to eat? Any informed debate to address important questions like these requires in-depth analysis of the whole food system.
In this recent study to assess the status of the UK aquatic food system, Cefas drew on the expertise of scientists working across the organisation to achieve a step change in our understanding of interactions between fisheries, aquaculture, food safety, human health, fish and human welfare, economy and environment.
This new perspective on the UK food system answered some existing questions but also revealed trade-offs and challenges that are likely to be overlooked in sectoral analyses. How will climate change alter disease risks? Are there links between the state of fish stocks and safety at sea? Can aquaculture and fisheries combine to support thriving coastal communities? What is the balance between health benefits and risks when eating fish? How will marine conservation affect fish and shellfish production?

Our results highlight the complexity of assessing seafood sustainability and a key role of integrated and systematic processes for assessing overall security of the aquatic food system. Importantly, this assessment will need to consider broad social, economic and environmental drivers, both at home and abroad.
For updates please sign up to email alerts from this blog, email us, or you can follow us on Twitter @CefasGovUK.