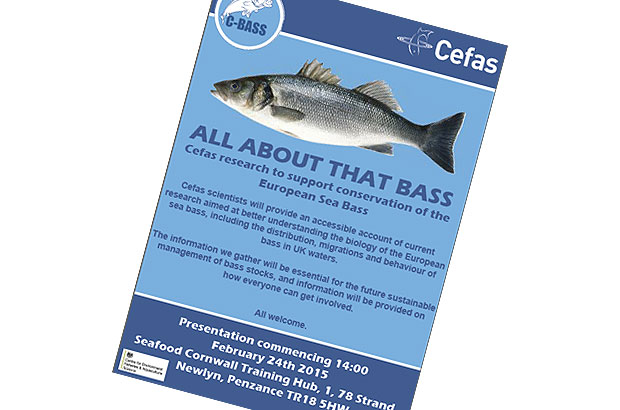 Since our last post, our scientists have been busy with outreach activity. On 24 February, our "All about that bass" presentation was delivered to a packed house of fishers and other stakeholders at the Seafood Cornwall Training Hub in Newlyn.
We aimed to present an accessible update of current research. This research aims to better understanding the biology of the European sea bass (including the distribution, migrations and behaviour of bass in UK waters), and to demonstrate how gathering these data will help in the future sustainable management of bass populations.
Following the presentation, our enthusiastic audience participated in an energetic question and answer session. They posed probing questions on the work and its implications for management. Our audience were particularly interested in the duration of, and participation in our tagging programme, the size-range of fish being targeted, the areas in which fish are being released, and etiquette around catch and release.
Other useful discussions revolved around the impacts of current regulations, the locations of spawning areas, and some insightful observations and speculation on possible stock-substructure.
This is the first of several planned regional events. The feedback from our Newlyn meeting has been overwhelmingly positive, and has led to several fishers coming forward with interesting data.
All are welcome to attend our future local events. These are free and will be advertised in advance; so please do come along and join in the conversation.
Stakeholder-led tagging
Following our Newlyn presentation, we trained a small group of pre-selected Cornish anglers and commercial fishermen how to tag bass with our mark-recapture spaghetti tags.
Releasing additional 'mark-id' tagged bass, by our trained volunteers, will greatly help our project. It will provide additional data on the extent of movements of bass between feeding areas and spawning grounds, and on bass population structure.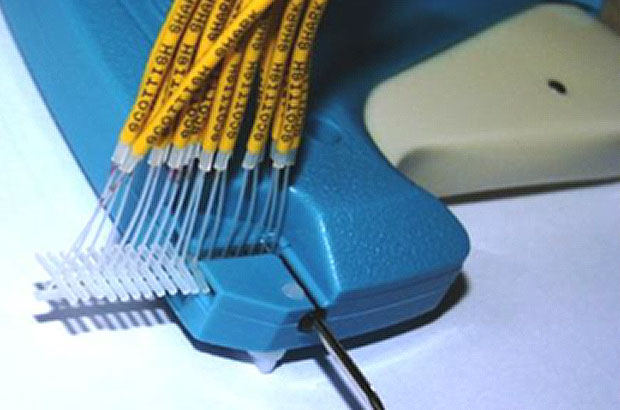 Also a re-analysis of international 'mark-id' data for bass will form an important part of our C-Bass work programme in the coming year.
Finally we'd like to say a big thank-you to everyone for the enthusiastic offers of support we've had from those keen to participate. Sadly only a few can be involved and please note that individuals being trained in mark-id tagging have already been informed. They will be trained to operate the project tagging kits that we're distributing.
As always animal welfare takes priority in all of the work that Cefas carries out; our scientists lead internationally with regards welfare standards. So we respectfully ask that all supplementary C-bass tagging should be carried out only by our trained individuals.
In the meantime please keep an eye out for our marked fish in your catches, and remember that any returned fish carry a reward.
C-Bass project meeting
Finally, we recently held our second annual external project steering group meeting at Nobel House in London on 3 March.
This was a great opportunity for C-Bass scientists to highlight some of the significant progress we have been making to fill some of the previously identified evidence gaps concerning C-Bass biology. It let us discuss these with representatives from the wider community of anglers, commercial fishers, scientists, policy makers and other engaged stakeholders.
Our results to date - generated mainly from analysis of survey and landings data, behavioural studies and our modelling work - generated lively and positive discussion. As a result we have been able to identify several potentially useful links, data sources and novel lines of enquiry.
For more information, signup to email updates on this C-Bass blog or contact ewan.hunter@cefas.co.uk.
You can also follow us on Twitter @CefasGovUK.