In C-Bass, we are working closely with our French colleagues at Ifremer, who are running a parallel bass research programme called "BARGIP" ("bar" is French for "bass"). Scientists at Ifremer and the Iroise Sea Marine Natural Park in west Brittany have already demonstrated impressive results about bass migrations following the release - in 2010, 2011 and 2012 - of around 250 bass tagged with electronic Data Storage Tags (DSTs).
The fish were released in the Iroise Sea, a known bass summer feeding ground off the north-west of France. The DSTs continuously record temperature and pressure (depth) until the fish are recaptured.
Analysis of the returned data and recapture positions shows that some of the tagged fish migrated south into the Bay of Biscay, while others migrated north into the western approaches and the Celtic Sea. One fish showed no directed migration, and instead remained in the vicinity of the Iroise Sea.
Cross working on a joint purpose
Like C-Bass, BARGIP is focussed on the acquisition of scientific data and knowledge to improve the management of bass fisheries in the North-East Atlantic. There are many similarities between the two projects, with BARGIP focusing on analysis of commercial and recreational fisheries data, identifying bass nursery areas on the French coast, and carrying out tagging to track fish movements.
This summer, BARGIP have already released around half of their formidable 1200 planned DST-tagged bass, the remaining releases planned for 2015. Read more about the BARGIP project and see a map of release locations.
Like BARGIP, C-Bass is using tagging to better understand the migration patterns of mature bass around the UK. Cefas have a long history of leading edge research using state-of-the-art tagging and tracking technology to understand the movements and behaviour of marine organisms.
Cefas released the first ever DST-tagged bass in 2005, and our work to date has included studies focussed on plaice, cod, sharks and rays, eels, tuna, crabs and even jellyfish! Read more about our tag development work.
C-Bass hit the water and tagging begins
The release positions of tagged fish are being coordinated between C-Bass and BARGIP, as far as possible, to ensure good coverage of the bass population. C-Bass is covering the Channel on the UK side, with releases off Weymouth to the west, and Eastbourne in the east.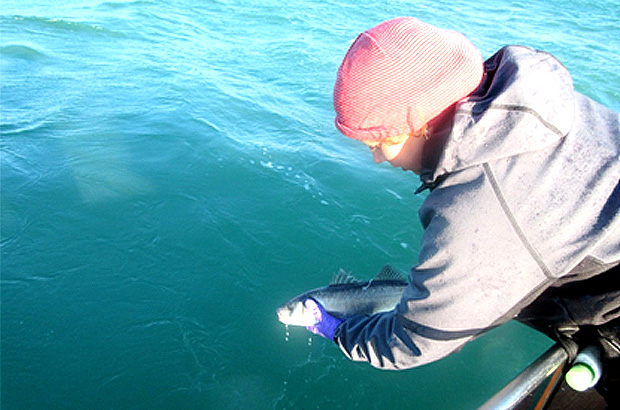 So far, our French colleagues have released DST-tagged bass from Dunkirk in the eastern Channel to Saint Brieuc in the west, with additional releases in between planned in 2015. Together, we aim to fully describe the dynamics of bass in the English Channel.
After much deliberation over vessels, logistics and catch rates (and our thanks to all of our volunteers!), Cefas tagging experts went to sea in early November. Day one of tagging tested our experts' sea-legs and open-air surgical skills, but by day two conditions had calmed to near perfect.
With steady catches, and a finely tuned tagging routine, by the end of day four our first 48 DST-tagged C-bass were happily swimming freely in the water, doing their own thing off the splendid Jurassic Coast. Our thanks go to skipper Bob Hope, and crew of the Kelsey Jane (Weymouth), who were our able bass catchers and obliging hosts.
What the tag data shows
By happy coincidence, over the course of this work, we were also handed a returned BARGIP tag, which we were able to download and return to Ifremer. As it turned out, the returned tag was one of the first BARGIP releases, from a fish that was tagged off Dunkirk in north-east France in June. Note that any tag, English or French, from fish caught in UK waters or elsewhere, can be returned through Cefas.
The data recovered suggest that this individual moved steadily south west through the Channel over the course of three months before being captured off Dorset in October (see the map below). Tracks are reconstructed based on the best fit between the depths and temperatures recorded by the tag, and the swimming abilities of the fish. We'll describe this process more in a future post.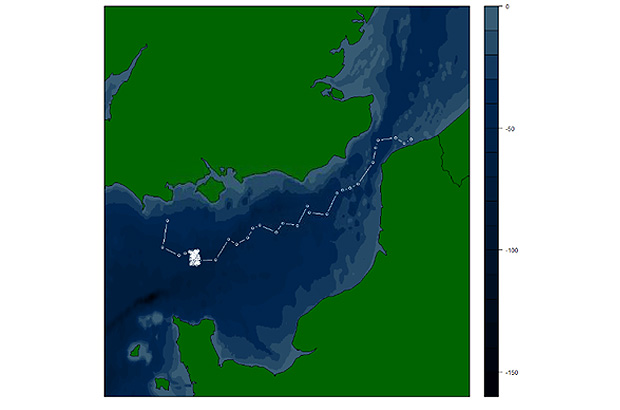 For more information, signup to email updates on this C-Bass blog or contact ewan.hunter@cefas.co.uk.
You can also follow us on Twitter @CefasGovUK.