Seaweeds, or macroalgae, are aquatic plants commonly found along rocky shores. Many of you will have seen them on beaches. And they could be the UK's farming future.
We have been harvesting wild seaweed in the United Kingdom for many centuries. These 'macroalgae' have traditionally been used as food for humans, feed for animals, and fertilizers to grow more food.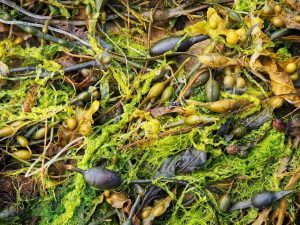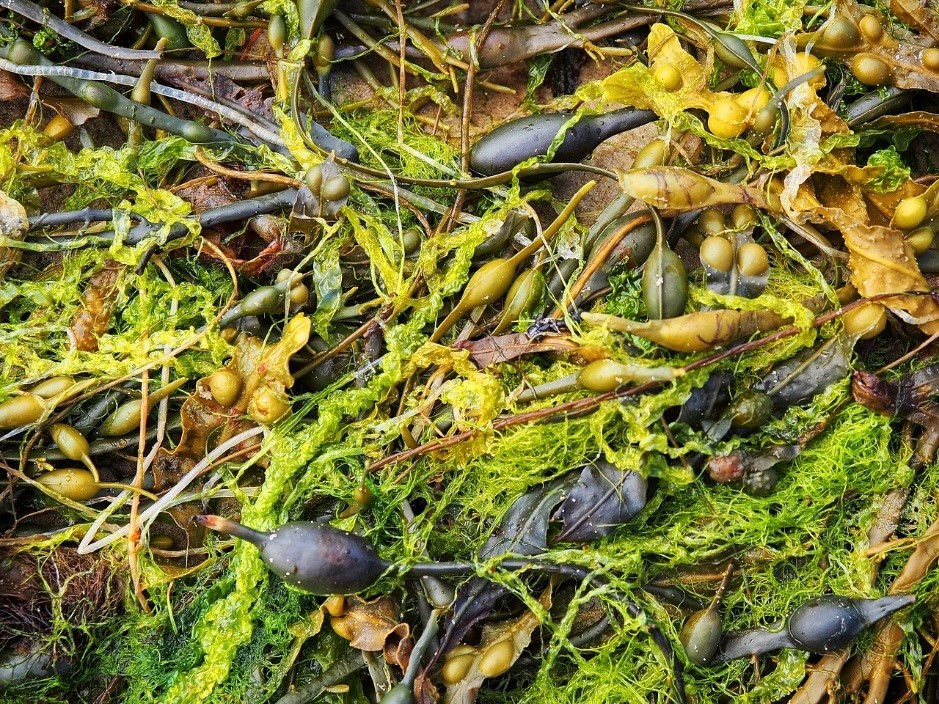 Greater demand and production
Seaweed has a whole range of uses, and demand has increased all over the world during the last half-century. To meet this new demand required a change in production methods. Wild stocks are limited, so seaweeds have been cultivated instead.
This has resulted in global seaweed production more than doubling between 2000 and 2014 - an increase in production of 10 to 28 million tonnes within 14 years… and this seaweed is worth a lot of money. In fact, the 2012 world production of seaweeds had an estimated value of $6 billion.
However almost 95% of global production is currently from Asia. The graph below shows the cumulative annual world aquatic plant production (in tonnes) from FAO data (2014) over the past decade.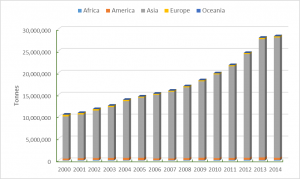 Seaweed farms in the UK
There has not been a long history of seaweed farming in the UK. However, in recent years, there has been more interest in seaweed aquaculture, mainly driven by research into algal biofuel technologies. Research has shown that seaweed could be an important source for the production of biofuels such as methane, a potential renewable energy source.
Uniquely, seaweed can be farmed in a way that does not compete with crops and animals for land or freshwater resources. This is a particularly important factor when you consider the finite nature of our islands!
Our extensive and under-utilised coastline makes the UK an ideal environment for seaweed production. There is potential to farm seaweed along extensive stretches of our coast. This would significantly increase production beyond our current levels.
However, before production is likely to achieve this significant increase there are a number of issues that require further research and clarification. These include:
farm running costs;
the volume that can be sustainably produced from a farm and the effect on the environment;
clarification on rules, regulations, and licensing requirements.
It is for this reason, that I led a project, funded by Defra, to explore the seaweed industry in the UK and abroad. The outcome was a report which provides an overview of the worldwide seaweed sector, its products, and the main challenges in further developing this industry in the UK.
Future work
Further work and research is needed to help grow the seaweed industry in the UK. I considered that this should focus on and aim towards the following:
establishing the total amount of seaweed currently in the UK, and how much seaweed can be sustainably harvested;
revising regulations and licensing procedures to include seaweed aquaculture;
developing and maintaining pilot farms to trial seaweed species; finding the best locations, growth rates and yield; costs; the environmental effects and how to store surplus algal biomass;
analysis of the product lifecycle to develop supply chains for seaweed-related products and
transferring knowledge between research and industry by developing algal-business clusters.
The future of seaweed aquaculture holds great potential. It is an important and under-utilised resource – but we need to understand the possibilities better. Work is already on-going towards this and there are currently a number of different research projects in the UK looking to solve some of the issues associated to seaweed farming. For example, Cefas is involved in the SeaGas project which is investigating the production of biogas from seaweed as well as storage solutions for algal biomass, and potential effects of seaweed farming on the environment.
All of this work will enhance our collective knowledge of the current seaweed market and the potential for the UK to explore and develop this new farming opportunity.
For further information about this project, or for comments on the report, contact enquiries@cefas.co.uk. You can also subscribe to updates from this blog by signing up to email alerts, or following us on Twitter @CefasGovUK.