Alternative metrics reveal the Cefas research that has received the most online attention during the past year.
A study published in Nature detailing the factors that influence the recovery of coral reefs from climate induced bleaching events has topped a list of the most popular online papers published by Cefas during 2015.
The article, "Predicting climate-driven regime shifts versus rebound potential in coral reefs" written in collaboration with colleagues from the Australian Research Council Centre of Excellence for Coral Reef Studies, James Cook University, took pole position in a top 10 compiled using data generated by Altmetric, a UK based company that tracks and analyses the online activity around scientific and scholarly literature.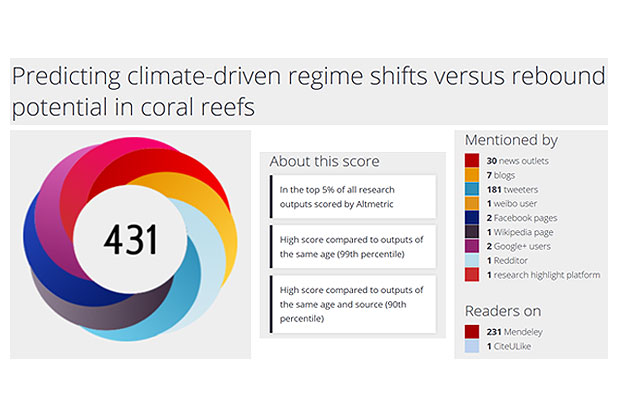 Altmetrics, or "alternative metrics," are an emerging field of new methods for measuring the use and importance of scholarly articles (think of it as the societal impact of the work). As opposed to more traditional bibliometrics, such as Impact Factor and citations in other journals, altmetrics provide article-level data and are based on new electronic sources of information, such as mentions on social media networking sites, blogs and online news outlets. Such information provides a measure of the immediate impact of the research, with most activity (news reports, blogs and social media activity) occurring within the first few weeks of a paper being published.
Other Cefas authored or co-authored research that caught the public's attention in 2015 includes an article detailing the unique reproductive strategy of the Vampire squid (2nd), the threat posed by invasive species to wildlife biodiversity in the UK (4th) and ways to mitigate their spread (9th).
Cefas top 10 most popular scientific papers of 2015
For updates please sign up to email alerts from this blog, email me or you can follow us on Twitter @CefasGovUK.