So one day on the game is a foot, the game being to guess what the weather may do and attempt to stay one step ahead of it, but more of that later.
Yesterday we steamed past two landmarks on the DevonCoast. The first was Goonhilly Earth Satellite station. The site contains up to 60 dishes, the largest of which are named from Arthurian legend. The most famous of these dishes is Arthur which at the time of its construction was the first open parabolic dish in the world measuring nearly 26m in diameter. Goonhilly and its dishes helped to relay the moon landings and Live Aid. When it was first built in the early 1960's it was the largest site of its kind was anywhere in the world.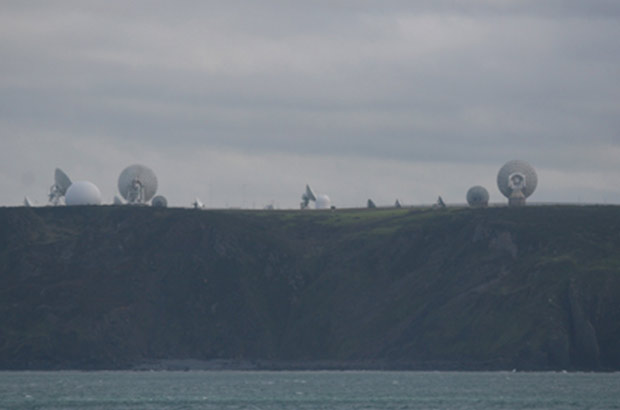 The second land mark was Hartland Point and its light house, which juts out into the Bristol Channel. It does in fact mark the point where on paper the Atlantic ends and the Bristol Channel starts. So we are now officially in the Bristol Channel.
As of tonight, Friday night, we are hoping to have completed all of our transects in the Bristol Channel, apart from the 110 mile one that runs out to the Celtic deep. All being well we get this done on Saturday and then……. Well put bluntly run away and hide.
There are times when there is no point trying to fight the weather or try to work around it, but instead raise your hands and admit a temporary retreat and in this case this is one of those situations. The weather in case you are not aware is supposed to get abysmal there is a weather warning from Cornwall to Kent. I've had an inkling over the last couple of days something was going to kick off because I have caught Captain Paul looking at Milford Haven and Lundy, on the Transas, our chart plotter. Both of these places would provide us with safe anchorage if a very strong westerly wind was to appear. On Sunday that wind will appear blowing 80ish knots, that leaves us no other choice but to run for cover, which hopefully will be Falmouth. From there we will ideally placed to nose out and see if we can get the remaining Scilly Isles transects completed and get this glider.
I gather that the blog has gone international, so a big shout out to Elisa's mum, good evening. Don't worry Elisa hasn't bought too much chocolate, although can you have too much chocolate? She just knows when the time is right to get the Gianduiotto out, bellisima, mille grazie.
I will leave you with a photo taken this very afternoon on the bridge. They may have been aware for this one.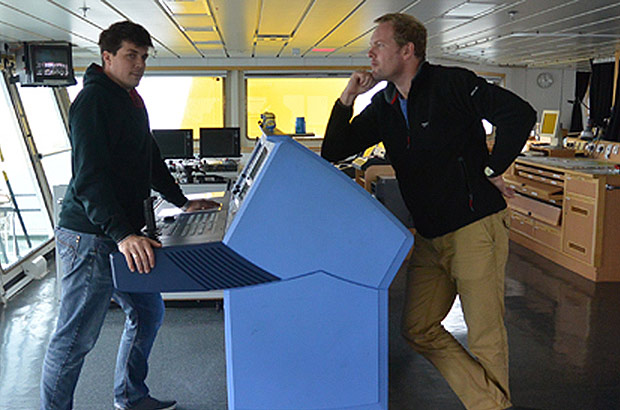 Have a good weekend, depending on what the weekend brings I may not blog. But will fill you in on Monday.
Thanks, Rob