The Fish Health Inspectorate (FHI) strive to provide all of our customers with excellent service. To check if we are achieving this, we seek regular feedback from our stakeholders by using customer surveys.
We ask our customers to rate our behaviours and professionalism, and not the legislation we regulate – as this is defined by the Department for Environment, Food & Rural Affairs (Defra).
We gather customer feedback in 3 different ways:
Email inspection survey - Customer Thermometer is an online service we use to gather monthly customer feedback through an email survey. We target customers visited by our inspectors in the previous month. Customers provide feedback  on a scale of 1 (Bad) to 4 (Excellent)  and can also make additional comments.
Paper survey - this is sent to operators who don't respond to the electronic survey or don't have email addresses. This survey is undertaken in July and December. It asks 8 questions under two categories: behaviours and professionalism. The questions assess the quality of our service and if the customer was treated fairly using a scale of 1 (Bad) to 5 (Excellent).
Email advice survey - The FHI's Aquatic Trade and Technical Advice (ATTA) team use an email survey to gather feedback on the advice they provide to industry. This is added as an email signature and has four buttons customers can click, ranging from "Excellent" to "Bad". Customers can also provide further comments.
Any negative feedback from these surveys is followed up through our complaints procedure. We investigate the issue, and respond within our Service charter deadlines. The survey results also form part of our key performance indicators reported to Defra, and are presented at internal management team meetings.
Survey results
1. Email Inspection Survey Results - February to July 2015
Each month we surveyed 50 to 70 customers, following their inspections. To date we have surveyed 206 customers and received responses from 119 (57%).
Of those responses, 106 (89%) gave an "Excellent" rating and 13 (11%) gave a "Good" rating. No "Average" or "Bad" responses were received.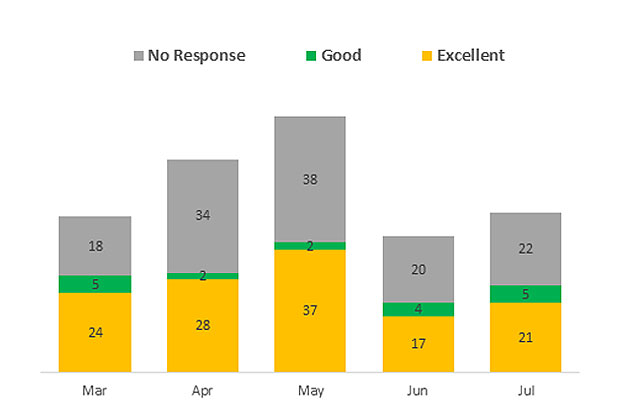 Additional comments about our inspection surveys
"He made us aware of the precise nature of our problem and how we should go about managing it. Very helpful in answering all the questions we put to him face to face and over the phone."
"Inspectors have been informative, polite and professional on all visits. From initial visit and diagnosis through till the latest inspection."
"Although on your inspector's recent visit I was not on site, the feedback that I received from my guests was that they were very impressed with the professional way that he conducted the inspection with limited disruption to my holidaymakers: whilst happy to answer any questions they had but ensuring that all tests were conducted.  Many thanks to you and your inspectors."
2. Paper Survey Results - July 2015
At the beginning of July we sent out a paper survey to those customers who hadn't responded to our email survey (above), and customers without email addresses. A total of 160 survey forms were sent out and 68  responses were received by the closing date (i.e. 42%).
Of those who responded, 31 (45%) gave a full mark of 5 (Excellent) across all sections.  Average scores are summarised below the paper survey.
Category
 
Average Score
Overall average
Professionalism
Patience
4.82
4.90
Enthusiasm
4.88
Ability to listen
4.90
Friendliness
4.95
Helpfulness
4.95
Behaviours
Level of Knowledge
4.83
4.82
Quality of advice
4.84
Ability to Resolve issues
4.65
Promptness
4.84
Treated Fairly
4.93
 Additional comments from paper surveys
"As always the FHI inspectors are excellent and show a great degree of understanding of our business, operations and the industry."
"Totally professional service, and discussions during the inspection are always very interesting and useful. Thanks to Cefas for the long term support."
3. Email advice survey
The FHI's ATTA team have been sending out these survey forms since January 2015 following provision of advice or resolving customer issues. To date we have received 83 responses, of which 60 (72%) were rated "Excellent", 21 (25%) were rated "Good", 1 rated "Some issues", and 1 rated "Poor".
Unfortunately the two unsatisfactory results didn't provide the respondent's identity or a comment to allow us to follow up on the problem.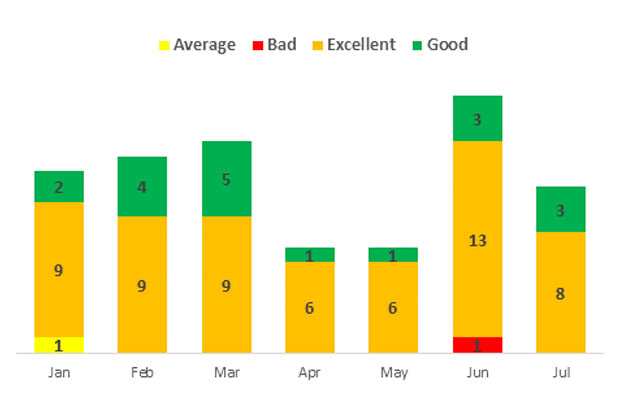 Comments from email advice survey
"The quick response to the enquiry was much appreciated"
"Very rapid response, with a useful document included"
"I called for help. Spoke to a person lovely lady, perhaps you would consider working for other government departments! At least you know someone has dealt with or knows about your comment/application. Can you help with my tax issues?"
"Brilliant service, really pleasant and helpful people to deal with. Other government departments could learn much from Cefas."
Follow up actions
From all of the responses, only 1 requested us to update our records to take account of a new contact. This was amended and responded to within 48 hours. We continue to monitor and act on any negative ratings and comments from our customers.
We have been investigating changing procedures within the team to further improve the customer experience. These will hopefully result in higher "Excellent" ratings.
How to follow the results
We now publish our customer survey results in various formats. These include:
For more information regarding the FHI's customer surveys please contact me.
For updates, please sign up to email alerts from this blog, or you can follow us on Twitter @CefasGovUK.